Section titled anchor_for_block_45678e6afb99ec8d06719404f93ad2e8
RAISING AWARENESS FOR A VITAL SERVICE. 
Brief:
The Healthier Together Support Network approached us with the challenge of creating a new brand identity and website that would help raise awareness for their vital services. The existing website was only one page and needed to be expanded to generate traffic and increase awareness. The new website needed to make it easier for the NHS to promote their services to those who were eligible to use it. Additionally, the website needed to be designed with equality, diversity, and inclusion in mind.
Solution:
We overhauled the brand identity, designed and built the new website, created a suite of core messages tailored to each of its different audiences, and developed a digital marketing toolkit and template suite that enables the individual employers of the service to 'pick and mix' their own assets to support their existing and future communications.
The new website is user friendly and allows people to feel confident and find clear options. The website was created with a robust and easy-to-use CMS that allowed those with little website experience to add and manage content, including iFrames, videos, PDFs, and images. We also included automatic language translation to make the website accessible to a wider audience. To break down taboos about mental health, we applied the right tone of voice for different audiences.
To meet the client's needs, we created summaries of training courses, the 1-2-1 counselling process, and support available for leaders and managers. We also designed a course booking and calendar and created news feeds, including links to the latest podcasts, specialist briefings, and social media updates. To help people signpost to services available, we designed a way to guide them.
Our team also provided maintenance and support for the website and integrated it with GA4, Search Console, and Tag Manager. We also ensured full SEO functionality with the creation of rich snippets/schema metadata and redirections. Our team provided full integration with Google Analytics 4 and data collection and management with data and enquiry capture functionality, surveys, and complex surveys.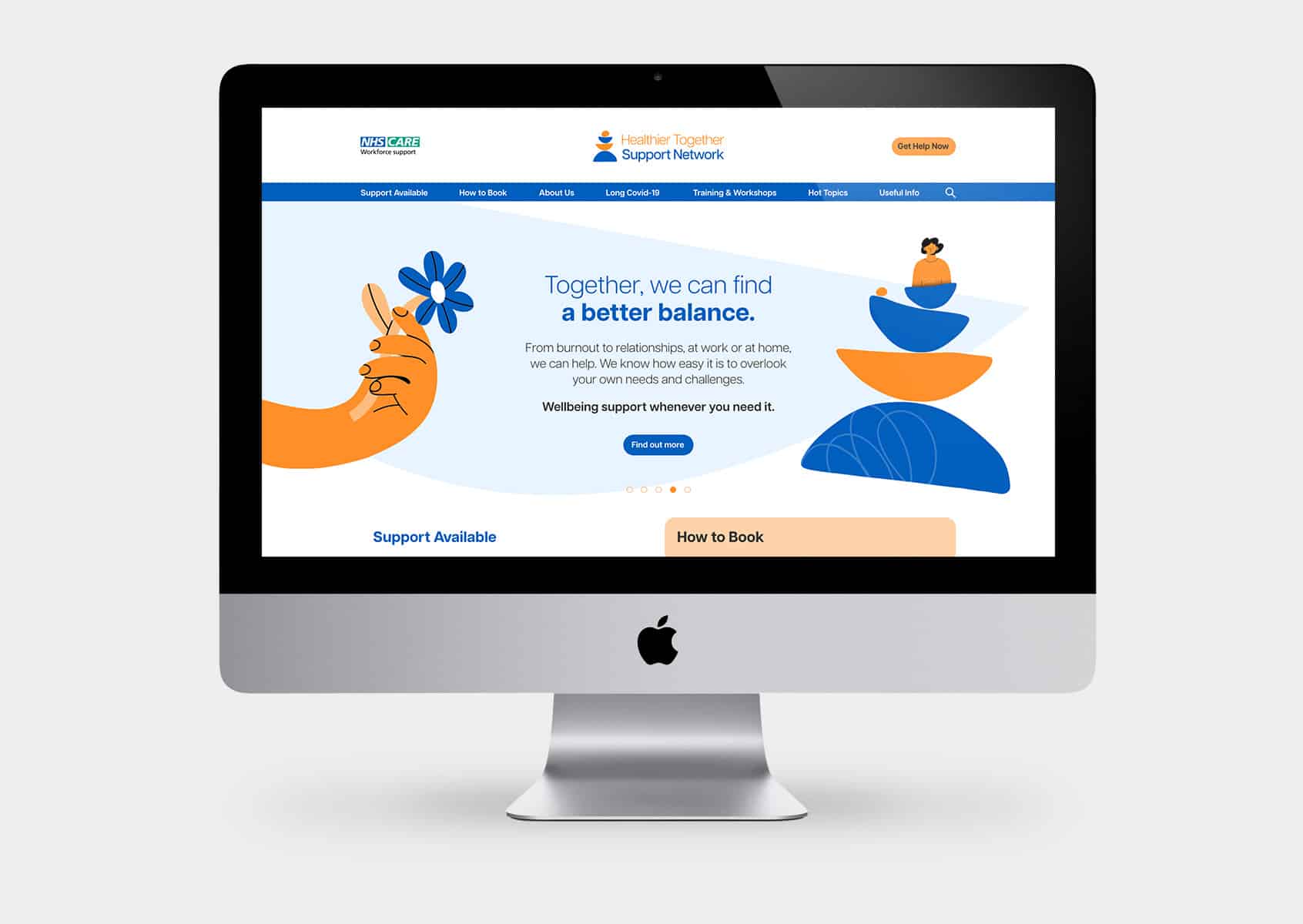 Outcome:
Our team's work resulted in a brand and website that creates stronger awareness of the service and helped people feel confident about their support options. People immediately recognised this as a service for them, as it was inclusive, targeted, and relevant. As a result, people now have greater confidence and know they have permission to refer themselves if they want to. The website is also making it easier for the NHS to promote its services to those who are eligible to use it. Overall, our team successfully delivered a website that met the client's needs and had a significant impact on their target audience.
Section titled anchor_for_block_a9c45182c789d1c189ff7980ae6eabd1
We commissioned the Herd group to build a new website as part of our brand refresh and to create the communications for the service.  The Herd group have been brilliant at listening to our ideas and offering input to develop the ideas into reality. We're really impressed with the website including its streamlined usability, easy to use drop down boxes and its carefully considered colour schemes. Their flexible and adaptable approach to the service needs was hugely appreciated especially with regards to deadlines.
The communications team created vibrant and engaging posters and videos to help us launch the website as well as working seamlessly with the website developers to create a united website and communications theme. We commissioned Canva Pro for our team to easily edit the posters created by the Herd Group. The Herd group provided clear instructions, teaching and videos on how to manage the website. All queries, feedback and requests for support were answered promptly and effectively.