Section titled anchor_for_block_31ccbf3e506af24e1782c7f4f4a059ac
We had the privilege of being appointed the lead branding and design agency for JamieAi, a UK-based startup that is revolutionising the recruitment industry. Our role was to bring the Tinkr brand to life by delivering a comprehensive brand strategy, naming, visual identity, brand language, marketing communications, and the UX/UI of the APP itself.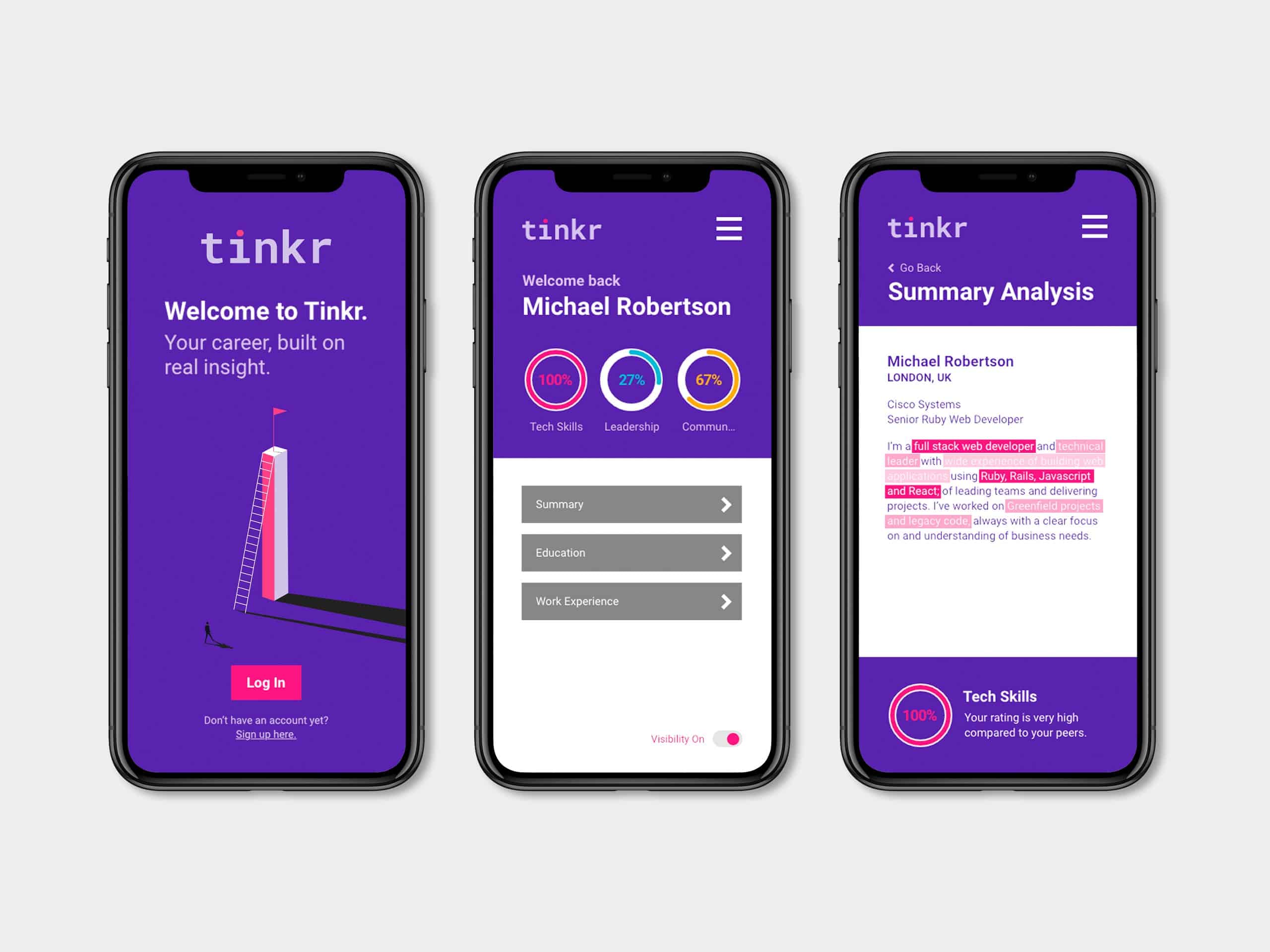 The Tinkr brand name and visual theme were derived from the story of Sexton Blake, a fictional character and detective who has been popular in British comics, novels, and dramatic productions since 1893. The story of his sidekick Tinker aligned perfectly with the technology and usage of the app. 
Tinkr is a bespoke career scoring platform that utilises data and machine learning to benefit users at every stage of their career journey. This means fulfilling ambitions, finding the right roles, and nurturing a career where every day at work is enjoyable and easy to adjust their professional profile. For recruiters, it means a faster, more accurate way to find talent, resulting in long-term retention.
We seamlessly integrated the brand essence into the UX of the App with the primary objective of establishing trust in the technology, ensuring every interaction was intuitive and completely natural for users. We have been able to humanise the groundbreaking technology behind Tinkr and create an experience like no other, ultimately driving the App's success.
Tinkr is disrupting the recruitment space by giving candidates and recruiters a new level of insight, accuracy, and efficiency. Frost Creative is proud to have introduced the world to Tinkr: a warm, friendly, and capable partner for the next stage of your career.
A full program of brand delivery 
Brand strategy
Naming
Positioning
Design
Brand language and messaging
App design
UX/UI
Digital user acquisition and launch campaign.
Results
• 3.2K users acquired within 3 months