Section titled anchor_for_block_3b761589bd7b480002a11e961dfbcfb8
GROWING FOOD BRAND KABUTO NOODLES COMES WITH ITS OWN SENSE OF ASIAN-INSPIRED STYLE. 
Its website needed to capture that unique, engaging feel without compromising functionality. We designed a beautiful responsive website that mirrored Kabuto's brand while allowing incredible flexibility for future campaigns.
The new website would need to support the overall Kabuto Marketing objectives of the following:
• Generating undisputed brand clarity
• Build a strong brand personality
The existing Kabuto Noodles website was predominantly product focussed and this needed to be addressed to incorporate further (prospective) customer engagement opportunities and so increase brand loyalty.
We created a site that was simple, easy to use and ensured visitors felt that Kabuto Noodles were relevant to their life.
The website is designed and built on a solid 16 column grid frame work, this enabled us to integrate a flexible widget system that enabled Kabuto Noodles to deploy various promotional buttons throughout the site.
For launch we focussed on a lifestyle image approach, this was the best way to reflect the brand proposition.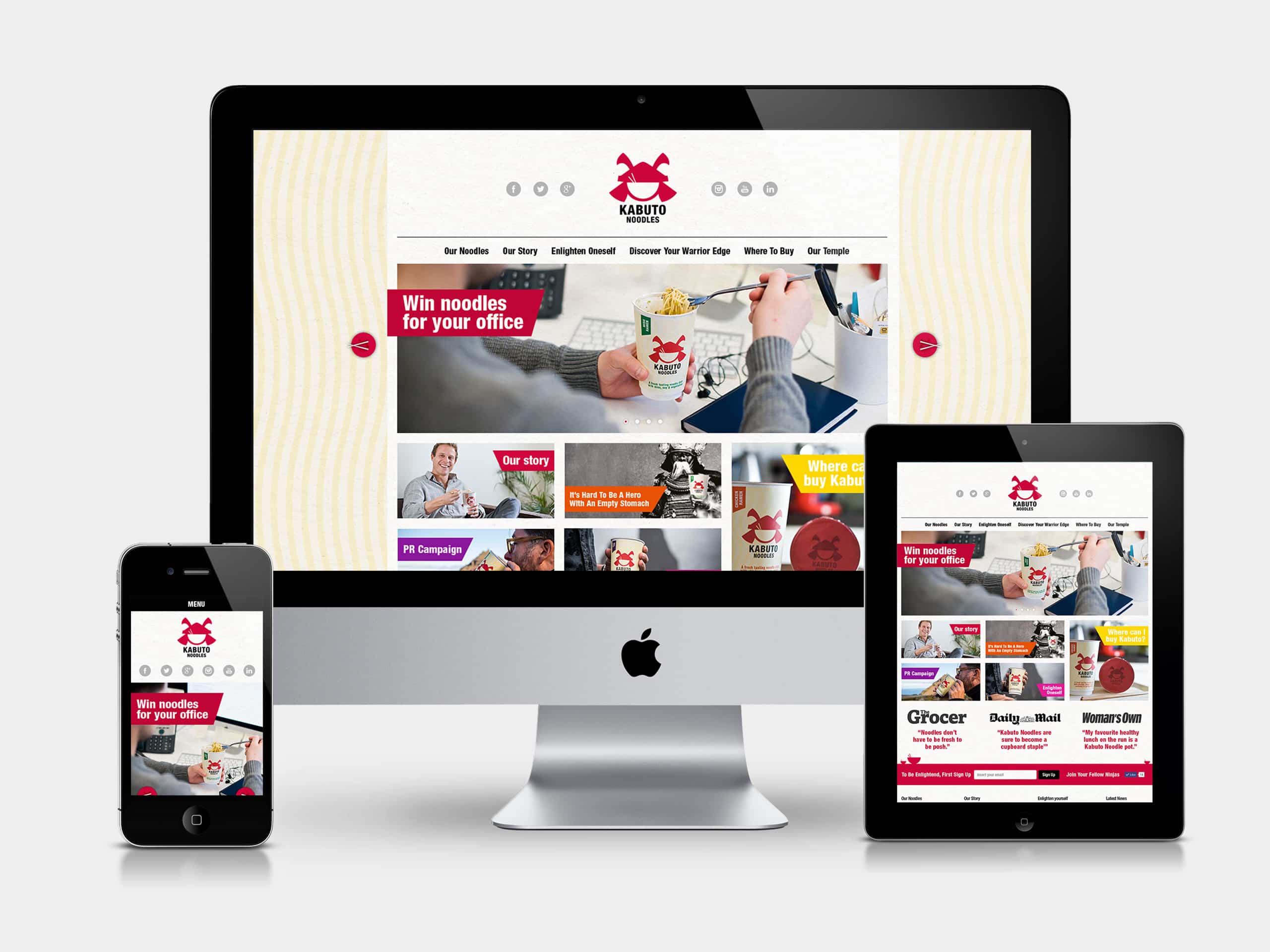 The Kabuto website was built using our very fast loading web application framework. Google has stated that page speed is a ranking factor for both desktop and mobile search results. This means that if the website loads slowly, it is less likely to rank high in search results. Consequently we wanted the website to have a very quick load time. The focused on the following performance enhancing elements:
Content delivery network (CDN). We used a CDN to deliver the website's content to users from the server that is closest to them. This helped improve the load time of the Kabuto website for users all over the world.
Minifying your CSS and JavaScript files. Minifying the website CSS and JavaScript files helped reduce their size, which in-turn reduced the load time of the site.
Optimising images. Optimising the website images reduced their file size, which helped improve the load time of the website.
Using a caching plugin. We added a proven caching plugin to the site. The plugin can help to store copies of the Kabuto website's pages in the browser's cache, which reduces the load time of the site for users who have visited the website before.
Our Impact
48.5% Increase in dwell time
79.7% Increase in page views
34.7% Decrease in bounce rate on desktop
53% Decrease in bounce rate on mobile