Section titled anchor_for_block_d8653242d87165936ec5475246d7cd66
Let's start with talking about what we mean by using the term RACE. RACE stands for Reach, Act, Convert and Engage. Reach is the process of creating brand awareness.
The purpose of this is to drive traffic to your website. Act is all about the interaction with customers so that they take the next step to reaching your website. Convert is the action of converting your customer to make a sale. Engage is the development of a relationship between the brand and the customer. This is what builds customer loyalty. You can use push pull marketing activities to support each of these stages. You can learn more about the Race frame work here.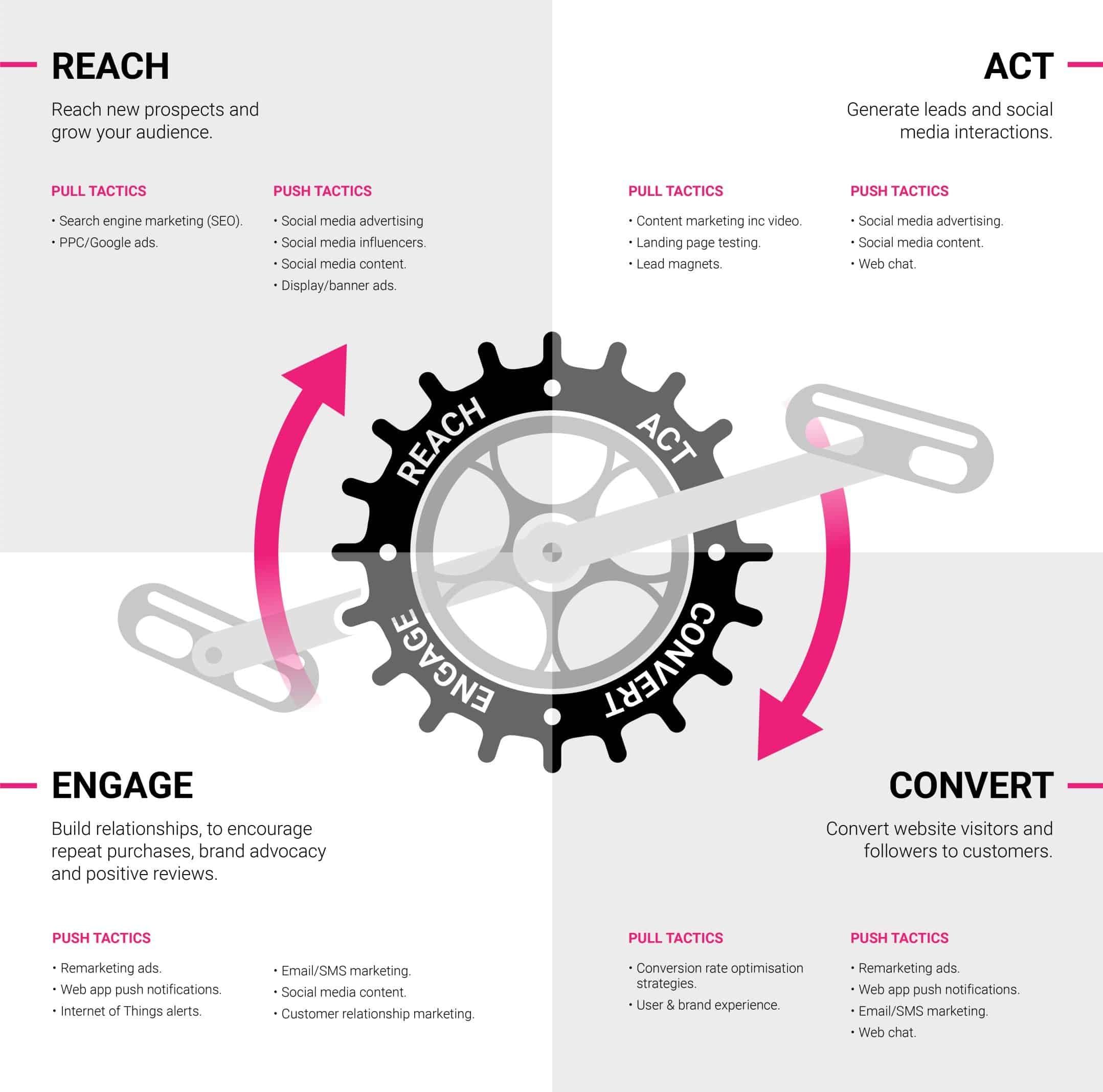 What is push marketing?
Push marketing is getting the product directly to the customer. Potential customers are usually unaware that they are in need of a certain service or product. Therefore for the most part push marketing will help increase visibility and awareness of your business. Some examples of this are targeted email marketing, targeted SMS and targeted events. Having targeted marketing means that the material can be segmented so that it reaches someone with a higher possibility of being interested in the content. This type of marketing is beneficial to niche markets as it is targeted which could result in new customers and leads.
What is pull marketing?
Pull marketing focuses on bringing the customer to you, this tactic involves a wider approach. Some examples of this are SEO, Social media, and PPC. Pull marketing is useful as customers are already looking and know what they want which will result in a more organic process of gaining customers.
Using push pull marketing to achieve RACE
Starting with reach, one way to achieve this is through social media marketing. You could use ads by promoting your content so that potential customers see your profile. Here you can target potential customers by only promoting the post to certain demographics. For example, you could choose to promote the post within a certain radius of your shop if you are a small business. Or you could only promote the post to people with an interest in beauty products. By doing this you will expose your brand to users who are most likely to be interested in your business. This also allows you to gain followers and unique visitors. Another way of exposing possible customers to your business is by SEO. SEO stands for search engine optimisation. By focusing on this, your business can be shown higher up on search results, ultimately maximising the number of visitors to your website. The more visible your brand is, the faster you can build awareness. Carrying out good SEO will increase the amount of organic search. Having high organic search is important because users have intent and if you can provide what they are looking for, the more likely they are to convert.
Examples of activities to carry out during reach:
Social media

SEO

Display ads

PPC
At the act stage customers are still deciding if they want to make a purchase from your business; this is where pull marketing can be beneficial as the customer may decide to research your business. One way to try to get possible customers to act is through content marketing. Content marketing is used to attract an audience. Some examples of this are blogs, videos and podcasts. By creating these you are familiarising customers with your brand, informing the user and building trust. Blogs ensure your website is up to date and relevant. It is possible by creating blogs you will grow your mailing list. When carrying out content marketing you want to start by defining your goals and decide on the type of content you are going to create. Once you have created the content it is always good practice to carry out SEO so that viewers find the content.
Examples of activities to carry out during the act stage:
Content marketing

Reviews
Leading onto converting customers, email marketing is a great tactic to generate sales. Emails can reconnect you with customers that have visited your website but left without converting. This allows you to remarket to leads that you know were interested. The emails sent can be personalised by using the recipient's name. By personalising emails the recipient is more likely to open the email. An email marketing campaign could feature offers and products which may encourage the recipient to make a purchase.
Examples of activities to carry out during the convert stage:
Email marketing

Install a chat box
Email marketing is also a great way to engage and retain customers. This could be an example of retargeting. You can use retargeting  by learning from customers past behaviours, like learning which web page they visited the most. After learning this an email could be sent to remind the customer of what they were previously browsing. Another way to retain customers is with the use of social media. You can use social media to hear customer feedback, learning what the customer wants. By connecting with customers both new and old brand loyalty can be created. By creating a relationship with your customer you are also adding value to your business. 
Examples of activities to carry out during the convert stage:
Social media comment section

Email marketing 

Content marketing
The sequence of push pull marketing
While you can use both of the push pull marketing activities during the overall RACE framework, there is a general sequence that you will notice works best for the cycle. It's just like riding a bike. First you want to push the pedal to get going, then you want to pull your foot up with the other pedal to carry on your journey. Just like riding a bike, you will continue to push and pull on the pedals in conjunction with each other to reach your destination. During the reach stage push marketing will work best. This is because push marketing makes your brand as visible as possible. Seeing as your customers do not know about you or your products yet you want to put the brand straight in front of them, informing them of your presence. Once the customer is aware of your brand they may want to research your brand to help them make a decision. And this is why pull marketing works best here, as the customer is already aware of you. Indecisive customers like to find out more before purchasing in order to be certain. Having content like blogs will create trust and reassure the customer into wanting to purchase your goods or services. Now that you are in the process of converting your customer to making a sale we need to push on the pedal again. Making content targeted and personal, the brand will be put back into the customer's view and this is when they decide to make a purchase. Once a customer has made a sale you want them to become a loyal and repeat customer. Using push pull marketing tactics can work well here, like using emails to retarget customers and creating a conversation over social media to hear feedback. 
*Dave Chaffey 2022 Introducing the RACE growth system and RACE planning framework: practical tools to improve your digital marketing https://www.smartinsights.com/digital-marketing-strategy/race-a-practical-framework-to-improve-your-digital-marketing/